YouTube and Vimeo have established their positions as the top video hosting platforms. Each offers their own unique services that have left the business world largely undecided on which platform to side with. There are benefits and downsides to both, and ultimately the decision should be made based on each company's individual goals and needs. YouTube and Vimeo differ in countless aspects. We will be focusing on three main points related to video marketing.
The Communities
One of the main reasons Vimeo has been able to survive and thrive alongside YouTube is it has targeted a totally different community of users. While YouTube boasts the gaudy number of 1 billion worldwide users and hundreds of millions of content watched each day, Vimeo's 170 million remains a sizable audience for a marketing video to reach. YouTube's massive audience is certainly attractive, but that audience may provide less quality views. Vimeo attracts an audience that cares more about quality of content. This means more intelligent, constructive feedback in the comments section and less internet trolls. It may also result in a higher likelihood of converting viewers to customers.
Membership
YouTube and Vimeo have very different main revenue streams.  Vimeo has a three tiered membership program ranging from a basic free plan to a $199 per year option. All the features of each plan fit nicely into a simple chart.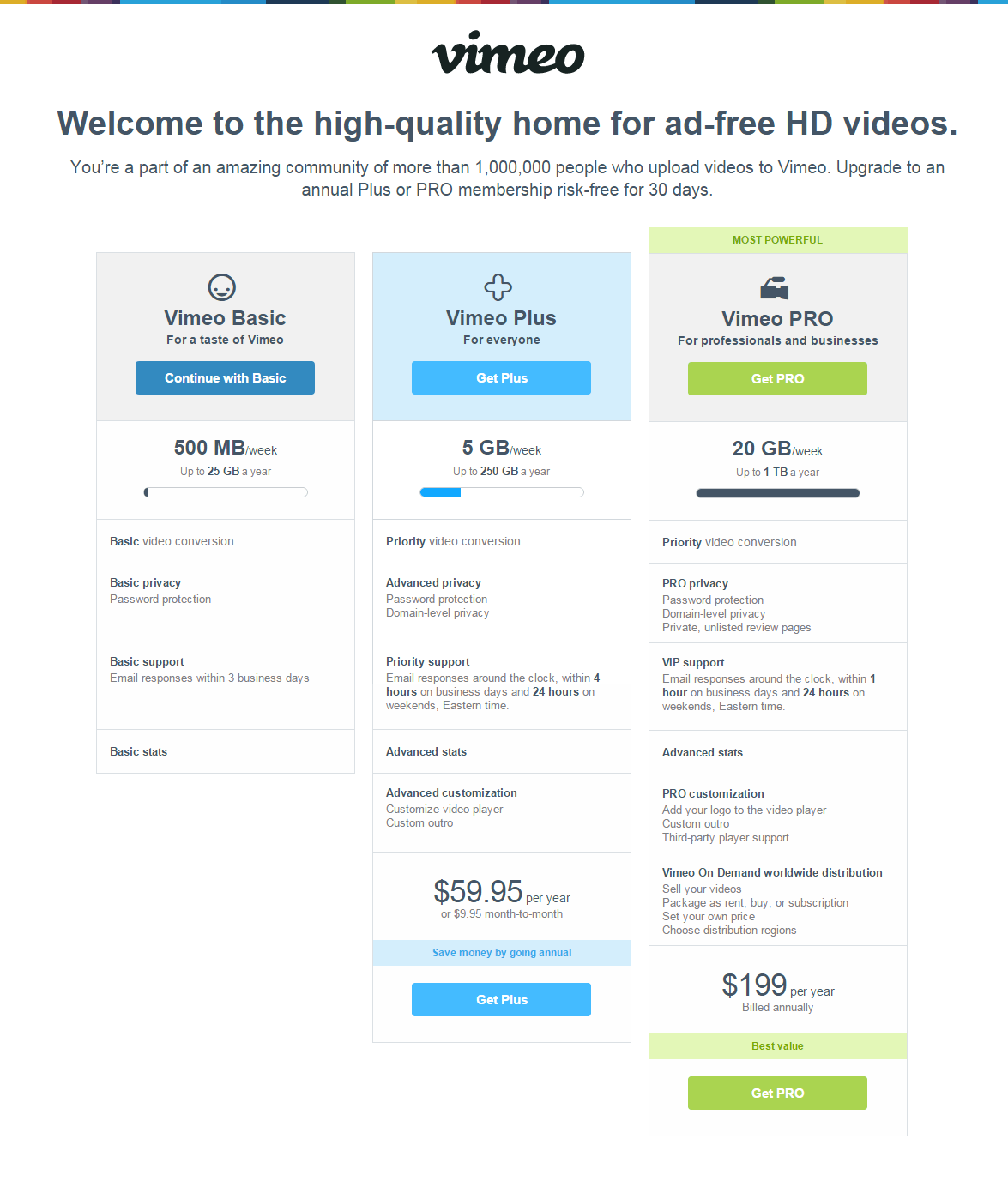 YouTube, on the other hand, employs a complex system of ads and payments to users who generate high volumes of minutes watched. That being said, YouTube now offers an ad free service called YouTube Red for $10 a month. Unlike Vimeo, however, the benefits of YouTube Red are only for the consumer and add no posting features.
The bottom line here is that YouTube's free membership is superior to Vimeo's in many ways, but Vimeo Pro offers unmatched customer support and other features that YouTube cannot on any level.
Video Updates
The ability to make edits to videos post-upload could be the deciding factor between Vimeo and YouTube for some people. It's a feature that Vimeo offers on every level and YouTube does not offer on any level. This means that if you post your video on YouTube and realize later that you need to make the tiniest of edits, you will need to delete the original video and all of its stats along with it. In a world where your views and likes dictate much of your exposure, this is a huge deal. This isn't just limited to small typo fixes. Vimeo's editing allows you to make planned updates, such as monthly offers or branding redesigns.
Who Should You Choose?
Every business is different. Both YouTube and Vimeo are viable tools to help utilize video in marketing. If you are looking for a way to drive views to your video than YouTube is probably the way to go. It's hard to argue with YouTube's 1 billion worldwide users. However, if you're expecting most views to come from your website existing customers, then Vimeo is the best fit. The customization and customer service Vimeo offers are simply unmatched.
If you have any questions, contact me (Conor), or give us a call at the Orbit office!
Multi-Media Publishing Manager
at
Orbit Design
Conor heads up the video and publishing departments at Orbit - overseeing books and short web films through, from the writing stages into polished content. He is always ready to talk about Orbit's video production techniques or the growing world of digital publishing.
Latest posts by Conor Cleary (see all)